Streamline your eFiling process with powerful features built into DMVdesk.
Take advantage of powerful eFiling designed to fit the needs of nearly every dealership – from new, used, motorcycles, powersports, and recreational vehicles
Know the status of where vehicles are in the eFile process at-a-glance
Save time by viewing and editing deal information on a single page
Review important eFile information prior to submission to DMV
Have plates and stickers sent directly to your customers quickly and efficiently
Generate and print additional DMV forms with just a few clicks
Rest assured, we've got you covered for all of your Temp Tag and VROS needs
Would it surprise you to know DMVdesk implemented Virtual Reports of Sale in 2013 for our dealer partners?
WE DID
Did you know our Account Executives regularly — and personally — drop by our dealer partners to ensure the process is running smoothly and assist as needed?
THEY DO
When you have questions about your Temp Tags or Virtual Reports of Sale, were you aware our local, expert Support Team is ready with the prompt answers you deserve?
THEY ARE
Did you know that DMVdesk has a contingency plan in place to assist you should an emergency arise that makes it impossible for you to electronically generate Temp Tags and Reports of Sale?
WE DO
Do you expect a seamless and time-saving Temp Tag/VROS workflow at the F&I desk?
YOU SHOULD
For the support you need and the expert answers you expect, DMVdesk is here to make your Temp Tag and VROS process as seamless as possible.
DMVDESK PIONEERED VROS IN 2013 — WE'VE GOT YOU COVERED.
"I enjoy the new Report of Sale system. It seems easier for me to just go online and print the Report of Sale. I no longer have to deal with my printers jamming or not being aligned correctly. These look neater and can be seen through double copies, making them very easy to read. They also take less time to print since the system is already converting the DMV information to the customer.

We no longer have to keep track of the RSs as they are kept online for our DMV Clerk to see.

I no longer have to waste time making several copies for our deals or banks as all information is on the RS, and I can print out several copies as needed.

Thank you for making this system easier for our finance department."
Evarist Offodile, Finance Manager
Honda World Downey
Our partnership is priceless
"Some of the important challenges our Title and Registration clerks face with Report of Sale forms are receiving them in a timely manner to the office, missing or out of sequence RSs, and missing such information as Salesperson, Sales License, and Driver Licenses. DMVdesk's Report of Sale eliminates those challenges. The process is very easy for the Finance Manager as all the deal information pulls directly into DMVdesk. It is impossible to use an RS out of sequence, and now there is a way for the Title and Registration Clerk to know who printed the forms and that we have received them all in the office.

Vitu (as always) trains our staff, addresses any issues, and listens to our ideas to improve the process. The sense of partnership we have with Vitu and DMVdesk is priceless."
Kathy Kerridge, Controller
Browning Automotive Group
Inquiries and Reports
Run KSR, NMVTIS, Theft & Lien and Safety Recall reports
Easy-to-read reports instantly give you the information you need
Built-in and customizable reporting gives you deep insight into your dealership's title and registration process
KSR Report with warning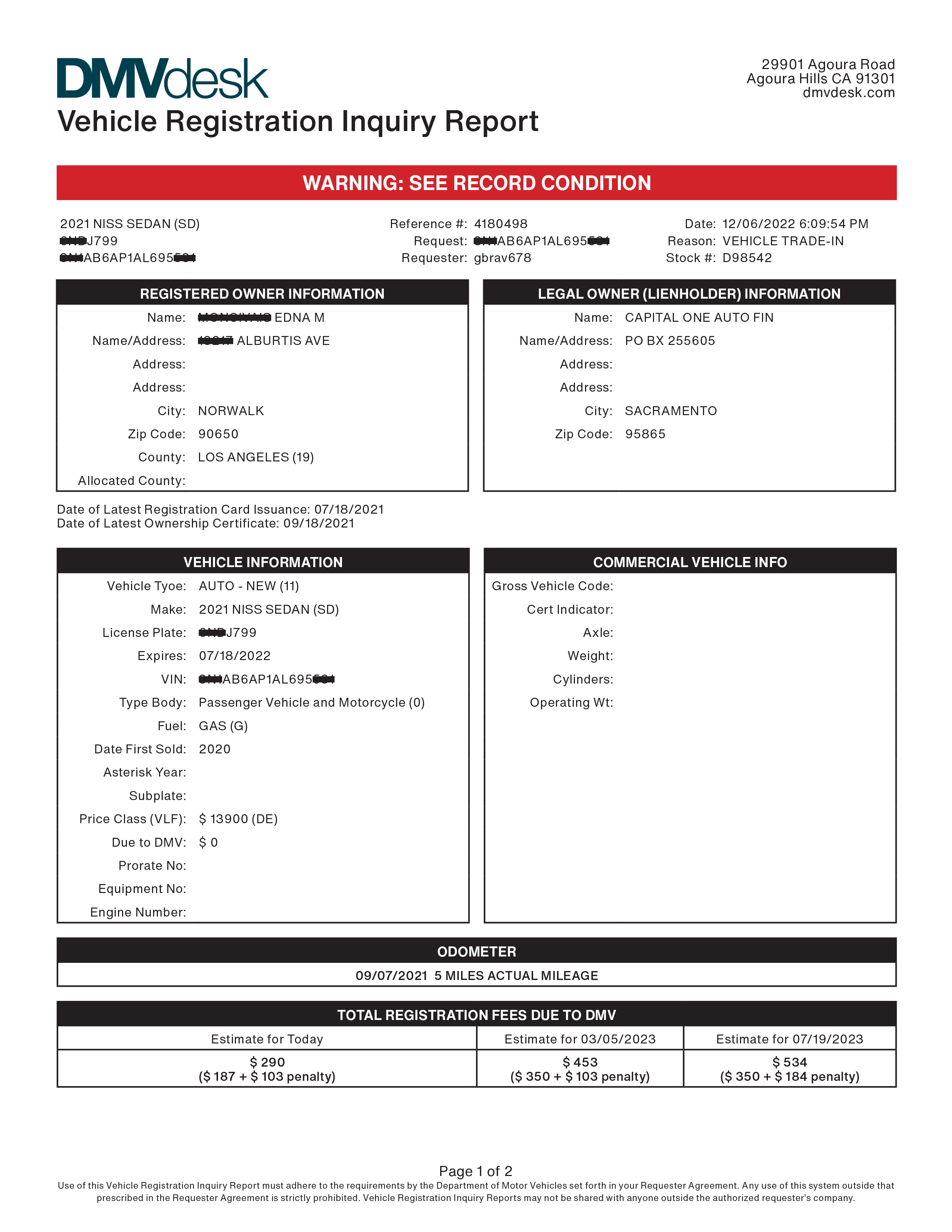 NMVTIS Report with warning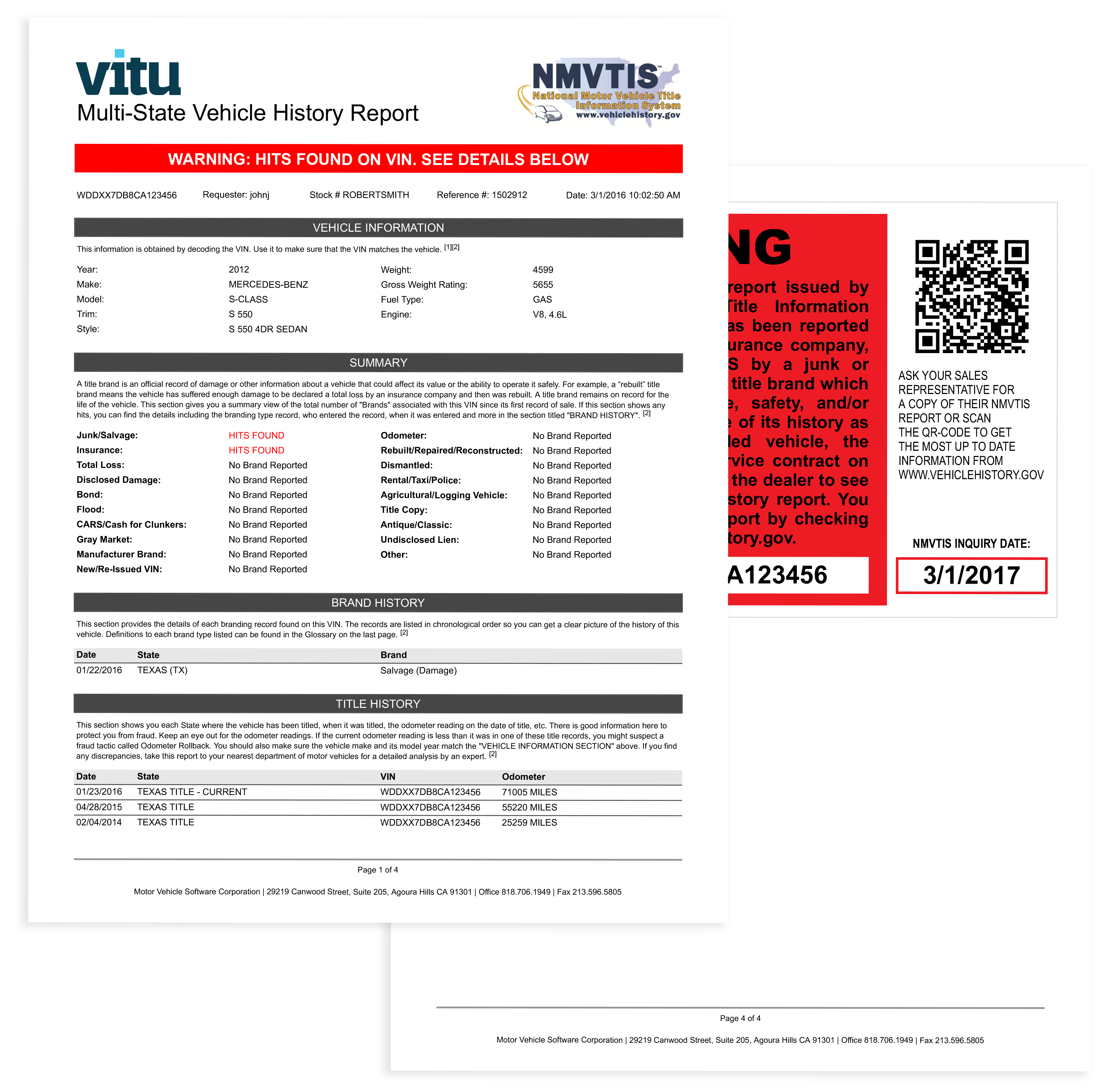 Theft & Lien Report
Safety Recall Report
Why does California prefer DMVdesk?
68% of new car dealerships take advantage of DMVdesk's powerful features*
Easy, efficient eFiling
99.7%
With robust platform features and comprehensive auditing, DMVdesk users enjoy a more than 99.7% DMV compliance rate — which is less than a 1/3% error rate.*
Fewer errors = fewer headaches
How does your dealership's eFiling rate stack up?
*in 2017
Excelling with support
11,000+
Over 11,000 people rely on DMVdesk's award-winning support team — consistent winner of the LiveHelpNow Challenge.**
Why not take advantage of easy access to unrivaled support?
**Since April 2014. The LiveHelpNow Challenge ranks its top 100 providers of superior customer service in a global field of more than 10,000 businesses. Find out more at http://challenge.livehelpnow.net/company/1005/dmvdesk
Streamlining through innovation
155,000+
DMVdesk's convenient Notice of Release of Liability (NRL) saves dealerships valuable time per request, with over 155,000 NRLs completed since launching in September of 2016.
Time saved = more time for customers
How much time will you save?
Securing your data is important to us.
DMVdesk and MVSC participate annually in the American Institute of Certified Public Accountants (AICPA) Service Organization Controls SOC 1 Type II, SOC 2 Type II, and SOC 3 audits. These audits assess a company's storage, handling and transmission of data, affirming its effective protection of confidential client information. In addition, these audits evaluate design and operational effectiveness of internal controls and processes for financial reporting, information security, processing integrity and management.
Strict procedures are in place from the moment paperwork arrives at the MVSC office until it is sent out to California DMV. Video cameras record every piece of mail received as it is opened, reviewed, sorted and scanned. Additionally, each bundle is double-checked for completeness prior to sending to DMV.
DMVdesk and MVSC are committed to rigorous security and compliance for all of their software and operations — put in place to ensure you and your customers' information is kept secure and private.